Interviews & Articles
1993
Print
Future Music interview
with Del Palmer
"Well red"
Nov. 1993


To the Reaching Out (Interviews) Table of Contents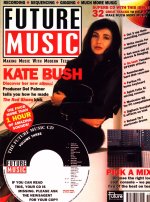 From: Scott Telford <s.telford@ed.ac.uk>
Date: Mon, 1 Nov 1993 15:29:54 GMT
Subject: Future Music Nov. 1993
The new issue of "Future Music" magazine (A UK electronic music-maker's mag, drum machine reviews, that sort of thing) has a feature on TRS (with the obligatory promo photo of KaTe on the cover). It's basically an interview with Del on the recording of the album, with a track-by-track commentary, a summary of KaTe's kit, and a guide to the distinctive Kate Bush vocals sound (it's not just her voice, a Quantec Room Simulator apparently plays an important role). There a photo of the aforesaid Quantec box and a couple of Yamaha SPX1000s, complete with dried tea stains (at least that's what it looks like 8-) all over the front of them and a photo of Del at the (or at least a) mixing desk, sans moustache!
Some of the things it covers are the decision to go to digital recording part-way through the project, the original plan for TRS to be the basis for a tour, and KaTe's playing of guitar and bass on BSL.

Date: Thu, 4 Nov 93 10:45:11 GMT
From: nbc@inf.rl.ac.uk
Subject: Kate article in Future Music Nov. 1993
Here is the article from the November issue of Future Music. N.B. it has been scanned and OCR'd so there may be some mistakes I have not spotted. Also, there were two insert boxes of stuff which did not scan as they were on a coloured background. I will try to type those later.
Neil
Del Palmer on Kate Bush
Well red
After a four-year silence, Kate Bush is back with a new album. Mark Jenkins quizzes producer Del Palmer on the ins and outs of her opus The Red Shoes.
KATE BUSH. One of the most original songwriters/musicians in the popular music world, and certainly the most distinctive British female star around. It's been four years since her last album The Sensual World - only Kraftwerk and Peter Gabriel seem quite as tardy in coming up with new material. Despite a few collaborations with The Comic Strip, Kate hardly seems to have been busy during this time. What has she been up to?
One reason for the silence has been a complete changeover in the set-up at her impressive personal recording studio, at which she started work on The Red Shoes using 48-track analogue techniques, but changed midway to digital recording - along with all the advanced editing possibilities that implies.
At the time of writing, Kate is busy working on videos for the new album, but FM has tracked down Del Palmer. He's worked on all of Kate's albums and engineered and produced Tbe Red Shoes.
He's undoubtedly the best man to supply us with background on the inspiration behind Kate's latest work, the recording techniques involved and to offer a blow-by-blow account of the genesis of each of the album's 12 tracks.
The Red Shoes is set for release on EMI Records on November 1.
Del tells what Katie Did
"ODDLY ENOUGH, the idea of this album," explains Del, "was to get it recorded quickly and get out on to the road with it." Kate's only previously played one short tour. "It didn't work out that way, but the idea did influence the way the album was put together. Because I wanted to concentrate on engineering and didn't want to be in the live band, I didn't play much bass on the album, and we used the same drummer and bassist - Stuart Elliott and John Giblin - almost throughout. A lot of the time we got them to play together live to create a consistent backing for a song, even if we had to go back and change that as the song developed.
Now, with plans for live performances of The Red Shoes shelved, listeners are left with an album which has a preponderance of tight, live-sounding tracks. Some of these will be aired in a 50-minute film which, like the album itself, is influenced by the tale of The Red Shoes filmed by Michael Powell in the 1950s. The film will feature Kate herself in an acting role as well as Miranda Richardson, choreography from Lindsay Kemp and work from Terry (Monty Python) Gilliam's animation studio.
Let's take a track-by-track look at how The Red Shoes came together.
Rubberband Girl
Chosen as first single from the album, Rubberband Girl is up-tempo and infectiously melodic. Originally, the first single was intended to be Eat The Music. but during the production of the film to accompany the album, Rubberband Girl seemed to be catching everyone's imagination, and has proved to be a substantial chart success.
Although the song has a relatively straightforward pop/rock feel, the vocals are multi-tracked and some of them seem incredibly low-pitched. "This song and And So Is Love are typical of the live band feel," explains Del. "We were trying to create a very accessible, live sound and the fastest way to record was to have at least two or three people playing together initially.
"On Rubberband Girl the bass, drums and basic keyboards were all done together, but we did change the whole track afterwards in the sense of editing it digitally rather than re-doing tracks. The bass and drum sound was important because we wanted to have them consistent throughout the album."
Although Stuart Elliot and John Giblin's performances tended to go on to tape 'live' at an early stage, this didn't avoid the need for subsequent changes. "When you put later tracks down, the earlier ones sometimes have to change because the whole feel of the piece changes. Sometimes we had to do the bass and drums three or four times, not because we were unhappy with the original performances, but because the feel of the song had altered as new tracks were added. Rubberband Girl is one of the few that worked first time - it just has a basic rock feel with a riffing guitar, the backing vocals went down first and then we tried various lyrics and lead vocal ideas.
"In most songs the lyrics change a lot during the recording process, although a basic seed remains solid. It often gets to the point of struggling over just one word which has to be returned to many times -there's never any pressure to write a song to fill a particular function, like acting as a single or being a very slow ballad, so the whole feel can often change,"
And So Is Love
Del says this is his favouritc track on album. "This one seems to have the most effective band sound to me; we had Gary Brooker (from Procul Harum) on Hammond organ and Eric Clapton on guitar, and that was just a couple of months after his son died. I admired him for doing that - he'd promised to do it and he wanted to stick to his commitment. Eric only really plays in one style, but he's a genius at what he does, so that was a highlight for me.
The track's original backing is a sequenced 4-bar Fairlight pattern which was played to the musicians to give them a feel for the piece.
"Usually we keep more of the Fairlight sound", says del, "but in this case it got scrubbed apart from the toms so it could all stay in strict tempo, so it could all be played live."
Kate's Series III Fairlight is pretty obsolete now, and most of its capabilities could be reproduced by a computer and a couple of Akai S1000s. However, she's got used to the machine over the years and has a lot of favourite sounds on it. "On this track there's a little flute/reed sound, but the Fender piano sound is a real one and the drums are Sl000 samples. We only have a very small room for acoustic recording and the sound of the room tends to get on to drum recordings, so we used a lot of S1000 drum samples triggered from Simmons pads plus real cymbals. Stuart Elliott knows that our drum recorcling can be a long and arduous process and he might get called back four or five times - not because we're unhappy with what he's done, but because the track changes as it develops."
Eat The Music
This track, laden with trummpets andl light percussion, has a very Latin American feel which actually stems from the music of Madagascar. "It uses a small guitar called a 'caboss' which is one of the instruments Paddy (Bush, Kate's brother) discovered and brought back with him. He's very into ethnic music of all kinds and has always contributed a lot of ideas to the albums - he helped bring in some authentic players and the track started off with bass guitar which was then replaced by an acoustic bass - but that sounded a bit too Latin. The horn section's real, of course."
The decision not to release this track as the first single from the album represents one of the few times Kate has been influenced by outside opinions in this respect -the interest in Rubberband Girl winning out in this case.
Moments of Pleasure
Like tracks on many of Kate's previous albums, this represents the piano and orchestra style of composition and was recorded largely at EMI's Abbey Road studios. Abbey Road's Studio 2 is equipped with the same SSL. automated mixing desk as Kate's own studio, and she has always recorded at least part of each album at Abbey Road. "There does seem to be at least one of this type of song on each album, although the vocals proved a struggle this time. It's inspired by a visit to the USA in 1989 which included a meeting with Michael Powell (director of the original film The Red Shoes) which took place in a flat in New York, and a lot of the lyric lines refer to that occasion."
The piano parts were actually recorded in Kate's studio using a Grotrian Steinweg -built by an offshoot of the Steinway company - while the orchestra was produced by Haydn Bendall. "I'm not too proud to say that he was the man for the job," acknowledges Del. "Abbey Road is the best studio in the world, and it's all down to the people there like Ken Townsend who will help with anything, including loans of equipment whenever we need something. They don't seemq to mind that we're taking business away from them by recording in our own studio as well."
Microphone technique for piano recording can be a case of trial and error. "It all depends on the player. A couple of Shure SM87s in the lid, with the lid propped up as high as possible, gives you about 18 inches of microphone spacing from the strings. They're usually above the iron section to give a slightly metallic sound, and then we have Massenberg equalisation units to tailor the sound. The equalisation on the SSL. desk is too violent and you can't get very specific, which is great for some things but not for the piano."
The Song of Solomon
Just as Kate used a section from .James Joyce's Ulysses on The Sensual World album, Song of Solomon uses biblical texts almost verbatim. "This is one of the first tracks we mixed and it's very simple. The sampled harp sound on the Fairlight alternates with the piano - the toms were originally played, but the final sounds are sampled from an Emu percussion unit but with a boomy bottom end added - the originals were more like tablas and they sounded too lightweight along with the ethereal harp and piano. The original tom sound is gated so that it just produces a short click, and the click is used to trigger the Fairlight. We had to advance the track on the digital multi-track to get the timing right, then move it back again with a digital delay so you've got a mixture of toms where some are on the beat and some are slightly off it. The good thing about the Fairlight is that it's stereo so you can sample a whole drum kit in one go."
Lily
This track opens with a voice recording of a simple prayer. "Lilly is a healer who helps Kate a lot and this is a little prayer she uses," reveals Del. "It just says that you have to have hope to be able to carry on. The track includes an instrument called a Fujara, played by Paddy, which comes from Yugoslavia - the very soft opening lulls you into a false sense of security, then you get what sounds like a drum loop, but in fact it's all played live. This is another track where the original bass and drums had to lie re-done at a later stage because the feel had changed almost to a hip-hop style." This very short track might seem an attempt to enter the indie rock field, but Kate would insist that there's no intention of confoming to specific styles in this way.
The Red Shoes
The album's title track seems to have an Irish folk music influence, with a big bass drum sound and an unusual legato bass part, but again this stems from the music of Madagascar. "It's fascinating how music from different parts of the world can have these similarities. All the mandarins and mandolas are played by Paddy, who has really gone into this sort of music, and he also plays all the various whistles and flutes on the track".
Top of the City
Again featuring .John Giblin's unusual high pitched bass line, this track has a very theatrical approach and emphasises the power of Kate's voice to deliver an emotional ballad. "The impression is of being high up in the clouds over a city, and originally there was more rhythm section, but a lot of it was taken off to emphasise the airiness of the track. That left the bass part very prominent so that was put through a delay to repeat it and emphasise its effect."
The track was one of the first recorded for the album, but changed an awful lot during the studio sessions. "Nigel Kennedy features on violin and his parts were recorded on analogue on 1990. There was a complete metamorphosis in the editing process and we lost a lot of the cymbals, which made the track sound quite sparse but a lot more powerful."
Constellation of the Heart
Reminiscent of nothing more than a Nile Rogers or Prince track as it opens, this one features a big American sound, lots of synth string chords, guitar processing and West Coast-style backing vocals. "This one staarted off as a 4-bar rhythm with this little chant going about turning telescopes inwards on ourselves. That turned into a sort of chanting, soul-style backing, and again it was a track that metamorphosed into something new and had to have the original bass and drums backing done again. Now it has a sort of Sly Stone feel to it..."
Big Stripey Lie
This track is fascinating in that the bass and guitar sounds which seem typical of dub specialist Jah Wobble and quirky American indie rock bands are in fact all played by Kate herself, who picked up a guitar during the recording sessions and within a couple of weeks was asking for Marshall valve guitar amps to be delivered so she could create screaming guitar solos. "It's a sort of stocking-filler track, the last one to be written, and has a sort of Captain Beefheart impersonation on the bass and guitar."
The bass sound is intentionally overdriven on the mixing desk, but also partly results from Kate's style of playing it - her energetic style overloads the compression on the desk without actually creating distortion due to high volume. Chirpy keyboard sounds on a Yamaha DX7 and an unexpected violin part combine to make this one of the most absorbing tracks on the album, despite the fact that it's untypical in its overall recording method - "this one was done quite quickly by the old method of putting down one track ata time, so it's not representative of the band-orientated approach on the rest of the album."
Why Should I Love You
This one actually was recorded in collaboration with Prince - Kate went to see him at a gig and was flattered to be asked to meet him after the show, when they discussed a collaboration. Unable to physically get together in the same room, they swapped multi-track tapes, with a slave reel returning from Prince's Paisley Park studio covered in vocals, guitar solos and keyboards. "The problem then was to put the track back together into something resembling its original form while retaining the best of what Prince had done. He hadn't added one of the vocal parts which would have been particularly good for him, so it basically took two years to put it back together. What's left is his lead guitar, some digital synths and some chorus vocals. Then Lenny Henry came in to do a vocal on the end - he's really got a great voice and ought to be doing a serious record of his own."
You're The One
Again featuring Hammond organ and Fender piano, this track also includes a rare synthesizer melody line and features Jeff Beck on guitar. "His style is completely different from Eric Clapton's - they're both great players but with very different aproaches.Jeff came in a couple of times to fix things up because he wasn't completely happy with them, and the end result is like classic '70's and 80's rock, with the Hammond from Gary Brooker again."
If you're deeply committed to pop of a particular persuasion, listening to The Red Shoes can be a very unsettling experience. Kate Bush has little regard for fashion, transitory musical tastes or transparently obvious lyrics.
If you're in the mood for a sonic experience which stretches the limits of style, vocal technique and compositional mixing and matching, this could be the album for you - and if initial response to the single release of Rubberband Girl is anything to go by, it seems abundantly clear that Kate Bush is back in a big way.


To the Reaching Out (Interviews) Table of Contents
"The pull and the push of it all..." - Kate Bush
Reaching Out
is a
Marvick - Hill
Willker - Mapes
Fitzgerald-Morris
Grepel - Love-Hounds
Presentation