Interviews & Articles
1990
Print
Option
"Perfect Vision"
by Maria Montgomery Sarnoff
March 1990


To the Reaching Out (Interviews) Table of Contents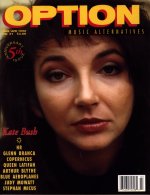 Date: Wed, 28 Feb 90 02:06 PST
From: Dave Armstrong <8548222@wwu.EDU>
Subject: OPTION by Maria Montgomery Sarnoff March 1990
This article is in OPTION which just came out. This is the first of two parts. I will try to get part two out tomorrow.
PERFECT VISION
The Insights and Sounds of Kate Bush
by Maria Montgomery Sarnoff
"I don't know about being a perfectionist," says Kate Bush, describing her attitude towards creating her unique brand of baroque pop music. Coming from one whose recordings demonstrate utmost control and an immaculate sense of detail, the remark seems practically modest.
Though she might not call herself a prefectionist, Kate Bush's music has achieved, over the course of her career, an unparalleled type of musical chiaroscuro - especially in her latest release, The Sensual World. As her musical development progresses, Kate Bush has found many voices beside the ethereal one featured on her initial hit,"Wuthering Heights." Her first two albums, The Kick Inside and Lionheart, were dominated by Bush's trademark soprano voice set amid finely-crafted, effervescent songs. Since then, her voice has acquired an earthy, sybaritic quality that she exploits in such new songs as "Walk Strait Down the Middle," in which she trills in Brazilian, as she alternately hums and growls to create a more sumptuous aural atmoshpere. Her lyrics are set in richly ornate musical settings which upon first listen can be almost too much to consume. But like other rich comestibles, her work is seductive in its luxuriant excess.
"It's a layered procedure. I take a lot of time writing, and thinking." She emphasizes the latter as she sits back on the couch, describing the process by which she produces her musical strata. "The actual performances from people are got very quickly. So hopefully, there's a tremendous amount of spontaneity performance-wise. But I have taken a lot of time between to change bits of the songs.
"You'll do something with people that works out really well," Bush explains. "And it works out so well it starts taking you somewhere else. You think, `I wish that worked so well that I could do THIS with the song.' Some-times I do that - take the song away and make it become something better. Working with other musicians is often the key. What worries me is that although the process is very spontaneous, I always feel that it sounds com-plicated."
It's a chilly day in Manhattan, so cold that the ice statues by the Plaza are still in their pristime state. The threat of snow hangs in the air. Kate Bush snuggles deeply into her forest green blazer as she looks out into gray sky, soaking in her wintry surrounding. Even from the comfort of the indoors, Bush is one evidently immersed in the world around her. She ponders a question as to whether she is trying to create an aural environment with her densely textured songs.
"Yes," Bush answers. "That's kind of what it feels like and I'd hate that to sound pretentious, because it could. It's like trying to paint a picture. Each song is like a little picture, and you've got to have the hill there, at the right proportion." Her hand motions toward an imaginary landscape. "When you look at a painting, even a simple painting, it's still got to have the proportions and everything that goes with that. Some songs will be so quick and easy to write. Some lyrics will be so quick. And yet on other songs they won't. They are all individual, and each one has a tricky bit.
"I suppose from a production point of view, the main thing I work toward is a sense of texture. When a song starts, you probably want it to be just sometimes quite small. And then you want it to get very big here so that there's a real sense of climax, and then bring it down again or keep it building. All these thing have shape and texture," she continues, as if visualizing her music in front of her. "I suppose that's just how I work. It's like trying to give the song the right proportions so that when it's big, it's really big and not too big and not to small. Instruments, different sounds and flavors, really affect all that.
"I think the voice is very much an instrument. Especially with backing vocals, because you don't have to have the emphasis on trying to carry the whole story. You can really treat it like an instrument. It's fun just experimenting with different sounds and shapes."
Perhaps it is Bush's preoccupation with experimentation which has kept her from breaking through to a mass audience in this country. Fame, on the scale which the English singer and composer has experienced in the United Kingdom and Europe, has so far eluded her here in the states. Despite this, there exists a huge cult following that fosters Kate Bush fan clubs and fanzines, both here and abroad. Her first two albums, The Kick Inside and Lionheart (both 1978), are filled with piano-dominated songs that hold the promise of things to come. On those early works she was already using her voice for unusual effects in the overdubbed backing vocals. Unusual instru-ments such as mandolins, beer bottles, mandocello, and panpipes were being integrated into her songwriting.
Never For Ever (1980), her third album, is in many ways a transitional one for Bush. On that LP she was introduced to the Fairlight synthesizer, which has since become integral to her compositions and arrangments. "The Fairlight was incredibly important," she relates, "because it was really what I had been looking for but had never thought possible. I used to play the piano, and the only instruments I had to work with from that were the piano and my voice. So I used to put a lot of emphasis on backing vocals and arrangements on the piano, because they were - in a way - trying to be violins and trumpets, and my voice was trying to be strings. That's all I had to work with. I was into the CS-80, but I really didn't like synthesizers as such, because they weren't natural sounds, and that's what I really loved. Discovering the Fairlight gave me a whole new writing tool as well as an arranging tool, like the difference between writing a song on a piano or on a guitar. With a Fairlight you've got everything, a tremendous range of things. It completely opened me up to sounds and textures. And I could experiment with these in a way I could never have done without it. It would have cost too much money. The Fairlight gave me a very private experimental instrument."
As an example of Bush's adventurous arrangements, the title track of Bush's latest release, The Sensual World, has a unique blending of both celtic and middle eastern sounds. The song was adapted from a traditional Macedonian piece sent to Bush by a fan, Jan Libbenga. "It was so beautiful that I was completely taken by it. So we used that piece and adapted it." The celtic flourishes are provided by uillean pipes, which Kate has also used on her previous albums The Dreaming (1982) and Hounds of Love (1985).
The text for "The Sensual World" was inspired by a completely different source: the Molly Bloom speech at the end of James Joyce's Ulysses. The lyrics were at first supposed to have been derived directly from the original; when Bush petitioned the Joyce estate, they denied permission. But this road-block, she explains, helped more than hindered the composition. "What was interesting was the fact that through their lack of cooperation, that they wouldn't let me use the lyric, the original piece, the song actually became something else. So I think in many ways them not helping us out turned the song into what it is. The song grew and changed into something more inter-esting. Certainly not lyrically, but as a piece of music."
The album, The Sensual World, is the first time Bush has worked with other female vocalists. Listeners who are surprised by her adaptation of Bulgarian harmonies into her own songs really shouldn't be. On Hounds of Love, the song "The Morning Fog" incorporates a piece of Russian choral music that was featured in the plague scene of Werner Herzog's film Nosferatu. As with "The Morning Fog," Bush is able to adapt and use ethnic music without making the result sound like a pastiche. "Rocket's Tail," on the new album, unites the acclaimed Trio Bulgarka with Bush and audaciously sends them off with a searing David Gilmour guitar solo.
"I think the hardest thing about working with the Trio Bulgarka was just having enough courage to go ahead and do it," says Bush, with charactestically self-effacing bashfulness. "Once I actually did that and I met them I and worked together, it was heaven. It was so easy, we had fantastic communi-cation. You know what the language problem is like. But in terms of music it was no problem. We just communicated emotionally and just kind of cuddled each other and sang to each other. It was just the most incredible experience to meet them as people as well as musicians, and to work with women like that - on a creative level. The whole thing was very exciting.
"Also what was extraordinary was the arranger that we worked with, Dimitri Penev. Without him I don't know if it would have been possible. Although I communicated directly with the girls, he was really the one who pulled all the arrangements together. He was just fabulous, so enthusiastic! I'd say to him, `I want something like this...,' and he'd think and go work on it, write some-thing out, and get the girls to rehearse and come back in ten minutes. He'd come back and ask, `Do you like this?,' and he'd get the girls to sing some-thing and I'd say, `Yes that's absolutely brilliant,' or `we've got to work on this bit here.' Again, the communication with him was extraordinary. He didn't speak English either. There was just a tremendous musical chemistry. I'd love to work with them again."
While growing up, Bush was exposed to both traditional and non-western musics through the influence of her brothers. (And her career is still a family affair - brother Paddy Bush has contributed musically to all her releases, while John Carder Bush, her other brother, has photographed all of her LP covers since The Dreaming .) This rich background shows up on each of her albums, which features didjeridus, bazoukis, balalaikas, celtic harps, penny whistles, and tupans. "That's definitely the influence of my brother, Paddy, who has always collected ethnic music, made musical instruments, and just had a tremendous enthusiasm for tradional music from around the world.
"With my mother being Irish, Irish music has a real hold on me. Since I was very little, there was always that type of music being played, so it had a big influence on me. When I was tiny both my brothers used to be playing it all the time at home. When I go to Ireland I feel the blood surge through my veins! We go there quite alot and work with musicians there, so I think the Irish connection is probably the strongest influence. But the other colors come very much from the instruments my brother has, or something heard that was played to me."
1982's The Dreaming, Bush's first self-produced album, was also the one in which she began working more rhythm into her songwriting. Since that time, rhythms have become increasingly important to the overall sound of her work. " The Dreaming was really my first move into production by myself. So it was the first time I could try things that I didn't feel brave enough to do before. There was a lot of weight on the drummers, and they were fabulous because it was very difficult for them. I was trying to get them to do things they had never done before. They were wonderful.
"By the time we were getting on to Hounds of Love, being in our own studio, and working with Del (Palmer, her recording engineer), I think the rhythms took on a more solid feeling. There was a tremendous amount of experimenting going on in The Dreaming, and it was great. It was more controllable doing the rhythms from, say, a Fairlight or a Linn drum machine and then getting a drummmer in. That way, what we found was that we started getting an interaction built where the drum machine wuld have a nice strong mechanical feel which works for tracks a lot. Then you add a very human feel to the same song by putting a drummer in there with it. That's the technique we've carried on with, and obviously the more we work together the more we're developing that process."
As a producer and songwriter, Bush ofter uses the recording studio as a necessary component to her creative process. Because of the inevetably long periods of time she was forced to spend in a recording studio, she decided, with Hounds of Love, to start working out of her own studio at home. "I don't think I could work in commercial studios anymore. The reason we got our studio together is because it was getting so prohibitive to try and spend the time I wanted to spend in writing. In a commercial studio we were paying God knows how much. So for Hounds of Love we had our own studio. And I think it's actually been the best move I've ever made creatively. It gave me so much freedom. Suddenly I was a relaxed person, working and writing in a studio, and this was completely new to me. I was able to take half a day off if things were absolutely awful.
"Quite often, in a commercial studio, you feel the pressure to keep work-ing, and sometimes you don't get any work done at all. For lots of reasons it became a more intimate process. By having my own studio, I didn't have people popping in at all times. The studio was always set up. And particularly important was the fact that I was working with Del, whom I know so well, on a more extensive basis. By the time we were working on this album he actually recorded everything. He was THE recording engineer. So I was in a position where I could write material in the studio with Del. I couldn't really do that with anyone else. It's a very private thing. I couldn't really write in front of other people.
"Because Del plays the bass, he's very good at rhythms and he'll often get the rhythm tracks together. Then I'll build up the song. As soon as I've got an idea, it can go on tape because Del's there. Now for me to actually try to put that on tape, it's so complicated. On occasion I've tried to do it, and it's a joke." She laughs. "It's impossible. And I don't think I'd be able to do it with another engineer because I wouldn't feel so relaxed. I really do have a tremendously intimate creative working environ-ment. I think it's had a very good effect on my music. I feel so much more... too brave sometimes. And that almost frightened me on this album where I actually felt `This is going to go out to the world!' It's like my private music. But I do think that's good. Music and art, if possible, should be as personal an expression as possible, as well as a group expression." Kate looks to Palmer, who has been sitting across from us.
"You're actually giving me far more credit that I deserve," Palmer says. "The thing about what Kate does so well is that she makes the musicians actually work hard. Most musicians never really have to work hard. They are always working on their own level of expertise. On Kate's music they do work exceptionally hard. And that's why I think most people really enjoy working with her, because they're made to work more than they are used to..."
Laughing, Bush cracks an imaginary whip over our heads. "HYAH! HYAH!" "When it works," Palmer continues, "they feel an incredible sense of release and satisfaction. They've done something they have never done before."
"What's great for me is that this is our sixth album, and we've been working with a lot of the musicians for years now," Bush adds. "They're old friends. We really don't have a band as such, but it's much easier to communicate with someone who knows what you want. Our drummers never freak
If it seems that Bush prefers as much control over her output as possible, that desire also carries over into her video clips. In fact, her interest in visuals has played an important part in establishing a presence for Bush since the beginning of her caeer. The video of her 1977 single, "Wuthering Heights" was one of the first music videos ever produced in Great Britain. Since that time she has made videos for each British single released except for "December Will Be Magic Again" - about 20 videos in all. These videos have practically defined Bush's public image, as she has rarely ventured onto a stage and detests touring.
The last six videos released have all been directed by Bush, who in the process has also become more interested in contributing to soundtracks. In between the release of The Hounds of Love and The Sensual World, she wrote "This Woman's Work" for John Hughes' She's Having A Baby and "Be Kind To My Mistakes" for Nicholas Roeg's Castaway. The former appears on the new album, and had also been released as a single with the latter song on the B-side. "In both cases the films were finished, and they specifically wanted me to write a song for those parts of the movies," Bush exclaims enthusiastically. "I love working with film and admire their work a lot. I was really thrilled to be asked to do that."
Bush's first venture into directing her own videos was with the single "Hounds of Love." She grimaces a little selfconsciously at the mention of the video. "That was my first real direction," she says, and then continues confidently. "I find in incredibly exciting, and in some ways a bit frust-rating that it's disciplined to the song that has been chosen as the single, because quite often a song is a song in its own right, and sometimes songs have much better storylines for videos. They're more visually oriented. So when you're working with a song that is not particularly visually oriented, it's incredibly frustrating. Especially if you know there is another song on the album that would be more visual."
Directing her own work has certainly filled the gaps in an already busy schedule. So for, for The Sensual World, Kate has directed videos for the title track (at the time of writing not yet shown in the United States) and the American single "Love and Anger." As of last December, she had just finished the video for the second British single, "This Woman's Work." But Bush is undaunted by the pace.
"I do love directing. My favorite is when I don't actually have to be in the video much and I can make it a little film. I haven't been working on it that long, but I've really got a group of people now that I would like to work with all the time as a crew. I have a fantastic crew. They're so enthusiastic - it makes it tremendously challenging and quite a moving experience for me to feel all these people working together as a group to make something. It's very different from making records, which is really a more isolated situation. On the film set it's maybe up to forty people."
Bush's early videos are more staged than her later ones. They are shot as though she were performing in a music hall rather than on screen. These early clips are long on charm, as Bush often exaggerates her facial expressions and incorporates dance into the production. For "Them Heavy People," she dressed in trench coat and fedora a la Bogart and danced with two other performers; it was very simple and quite entertaining. "My videos are more film-influenced now. When I first started making videos, I was so obviously theatrically and dance-influenced. A lot of that was from Lindsay Kemp and dance teachers with whom I had been working. Gradually the more involved I got in video, the process of making films, the more I've swung around to film-making. It's a beautiful discipline, dance, and it can be lovely, but I guess I'm getting for more into filmmaking now."
What about the obvious complications in making a video from a song that's already been paired with part of a movie, as was "This Woman's Work"? "It was interesting because the song had originally been written to visuals," she says. "But the song has its own storyline as well, so then it was like making a film of the song. Obviously (in the movie) it's about a man waiting for his wife having a baby. Now I didn't want to put myself in a situation where I'd have to be pregnant." Kate laughs. "It's all too complicated. So we kind of left it very ambiguous. And I think it looks like a little film in that it tells a story. So I guess rather than talking about it, it might be nice to let you see it."
Indeed, screening the video reveals that, like many of those Bush has directed, the story is elusive and open-ended. A man is waiting for his wife or girlfriend in the hospital. We don't know what happened to her, but as the man is in the throes of grief and worry, Bush appears as a vision (of sorts) and soothes him. "Love and Anger," another new video, combines ballet dancers and whirling dervishes with a live performance by Bush and her band. What is most pronounced about her work with video is that the strong emotional content present in her music appears on screen as well, rather than merely glitz and special effects.
One of the more unusual aspects of Kate Bush's career is the degree of devotion that some of her fans have for her. "They'd drink her bath water!" was a comment by one record retailer after the release of Hounds of Love. In America and Great Britain, Bush fanzines discuss such probing issues as whether or not the song "Rocket's Tail" is dedicated to her pet cat. There are also testimonials of sorts, letters describing just how Bush has changed someone's life. And it goes far beyond that. In 1985 came the first Kate Bush convention, called a Bushcon. Her fans celebrate her birthday, calling it "Katemas," and spending the day immersed in her recordings, videotapes, and the company of other loyal followers. It's a bit twisted; such fiercely religious devotion might put off a lot of artists, especially in light of the threats that many celebrities receive from deranged fans. But Bush is comp-limented rather than concerned over her rabid following.
"My contact with them has been fantastic," she says, "I get letters, a lot of nice ones. When I'm in the middle of an album and I'm worried because it's taking so long, I'll get a letter that says, `I don't care how long it takes, I just hope you're happy with it.' They're very supportive and enthusi-astic. I'm impressed with them as people. They seem very intelligent and respectful of my privacy. I can't thank them enough for that."
"You do get the odd one or two," quipps Palmer. "But they're usually very discreet. They just want a picture or an autograph. And they're quite patient to wait almost five years for an album with no complaints!"
Privacy is something that is very important to Bush, and it is an aspect of her personality that has found its way into a few of the unauthorized bio-graphies that have come out of England. She is said to be squeamish about interviews because of her private nature, but Bush explains that her lack of interest in interviews has more to do with the manner in which the interview is held than anything else. "In England over the years, I've had alot of trouble with the interviews I've done because they haven't wanted to talk about my music. That's what I don't like. I feel that interviews should talk about my music and not me, not my life. The other thing is that I don't want to publicize myself personally. This is not why I do it. I want to publicize my work and my music. There is a fine line anyway, because obviously a person's work is an expression of what they are as a person. But I don't know if it matters what the person is like. (When I read an interview of an artist,) I don't want to know what they do on weekends, I want to hear and see their work."
Upon meeting Kate Bush, she does not seem as inordinately private so much as she strikes one as fully autonomous in her career. Few major label artists enjoy the measure of creative freedom that she does. Albums come out two to four years apart. From videos to photo shoots, Bush controls all visual images of herself. She refuses to become a star based on an acquired persona, pre-ferring her music to be the focus of her public perception. For someone who had fame thrust upon her at such a young age (she was 20 when "Wuthering Heights" became a hit), she could easily have had her career managed by others. Instead, she has worked steadily and intensely for many years in order to creat music in the manner she wishes, without compromising herself or her work. It's an unusual situation, and she knows it.
"Yeah, I'm tremendously lucky," Bush says. "The amount of creative freedom I have is extraordinary. And yet, it's still not enough. Because I don't think you can ever have enough time to create. You can be creating all the time. But just the way our lives work, the way the system works, there continually have to be big breaks in creating. Do you know what I mean? I would like to be spending even more time than I am just creating music."


To the Reaching Out (Interviews) Table of Contents
"The pull and the push of it all..." - Kate Bush
Reaching Out
is a
Marvick - Hill
Willker - Mapes
Fitzgerald-Morris
Grepel - Love-Hounds
Presentation