Interviews & Articles
1978
Print
Tune-In
"Tales Of Christmas Past"
by Jan Etherington
Christmas 1978



To the Reaching Out (Interviews) Table of Contents
Tales of
Christmas Past
For song-writing, singing sensation Kate Bush
Christmas is a family occasion with Dickensian
overtones. Jan Etherington has been talking to
the girl whose first record topped the charts and
whose first album won a gold disc.
Pictures by Bernard Fallon
Photo caption 1: This beautiful red dress in heavy satin dates from the Thirties; cost £12. All items Kate Bush is wearing comes from a collection at Pot Pourri, which specialises in original clothes.
IT'S a great compliment in a business where comparisons are a way of life and most things are derivative, that Kate Bush has emerged as an original. Her extraordinary first single "Wuthering Heights," which she wrote after watching the film on television, enabled Kate to move into the Number One spot for such an astonishing length of time that she practically bought the freehold. She'd barely vacated the premises when her second single "The Man With the Child In His Eyes," a haunting look at adolescent fantasy which she wrote four years ago, plus an album of her own songs, The Kick Inside, won her a gold record, proving that Kate Bush. far from being a one-hit wonder was definitely - something.
Still only 20, music has always been a part of her life. She began writing songs when she was 11 and grew up in a loving, caring family always ready with help, advice and encouragement. Her father, a doctor, plays well and one of her brothers, Paddy, makes and plays musical instruments and appears on Kate's albums. Her other brother, John, is a poet and writer and is married with two sons.
Only the slightest excuse is needed by Kate and her brothers for a family get-together and Christmas in the Bush household tends to be a Dickensian affair.
"I've always loved Christmas,"- she says. "It's a very special time. It has it's own special vibe. It's marvelous now, with my two nephews, seeing Christmas through a child's eyes. I remember getting a toy from my brother, Paddy, one year-- a little cooker. He broke it. He didn't mean to, but it's so heartbreaking when you're a kid. "We all get together as family for Christmas Eve, Christmas Day and Boxing Day and because we're all so close, we have a terrific time. One thing I really love is the tree. It's wonderful to have a real tree in the house, the smell and colour is so beautiful. I really look forward to Christmas at home."
But for Kate, one thing's missing. Turkey is out. For four years she's been a vegetarian.
Kate's arrival on the pop scene came after a long period of waiting in the wings. EMI put her under contract three years ago after hearing a demo tape prepared by David Gilmour of Pink Floyd. Very impressed, they felt, however, that Kate should spend some time writing before she was launched.
Kate found it a strange period of limbo.
"Once I got the contract I presumed things would happen. I didn't go on holiday in case they called me to do some recording. But nothing happened. Finally I decided to study dance because I felt at least that would be something progressive."
It was a wise move. Her classes in dance and mime with Arlene Phillips and Lindsay Kemp have added enormously to Kate's impact as a visual performer, although Kate found the lessons no easy task.
"There's an awful lot of dance training in mime and I found it very difficult because I'd never danced before. A lot of the other people in the classes were good and I was useless. I looked an idiot for months and I used to get so depressed and frustrated because I couldn't do it but challenge is very important to me and I was really tough with myself to carry on and stop looking a fool. If you don't dare a little you won't progress."
Her continuous movement on stage is one literal way in which she manifests her horror of remaining static as a musician and a writer. She had four years to get together the songs which gave her the initial impact.
Photo caption 2: Below: raw silk pyjamas from the Forties (£5.50).
Bottom: gun metal sequined bolero from the Thirties (£15).
Success has given her many things. but it's taken away her time to herself.
"Sometimes I get really worried because I'm not sure if I can ever write another song. but that's often because I've not had enough time to get the flow going. It's very inspiring sometimes to write under pressure because you're in a very extreme emotional state and enjoying new experiences.
What I do find a problem, is actually being left alone to put it on paper. I can't remember the last time I was alone for any length of time, even a day. It must be well over a year. I miss being by myself very, very much but it's very difficult because you can't just ask people to leave, they don't understand.
When I was studying dance and writing songs I was alone a lot, but I was being so creative and I got so much done. I think it was probably one of the best times of my life: I was really happy."
Not that she's unhappy at the moment but she realises that one album doth not a legend make, even if it was a gold one, and her new album Lionheart will be very important. She's very happy with it, she feels it's a major progression.
"Writing songs is what I'm good at and I really do feel it's what I'm meant to do. What I'm here for. I can't think of anything else that would be as fullfilling and I would be happy to be just a songwriter, full stop. But there are always new beginnings. As soon as you climb one wall, there's another wall to climb. The first album was a showcase, a foot in the door if you like, and it's very important for me to change and improve. I think I can be reasonably objective about my own work and I was lucky to get the songs together for Lionheart. There are no special themes because I always treat each song as a separate entity and work on them one at a time but I think many other songs are much more up-tempo. I love rock songs but normally they're just three chords and I don't believe in that sort of writing. I like a really strong melody line and that was a technique to learn but l seem to have cracked it. It's pleased me, anyway."
She's confident enough to know when she's done a good job and appears to have all the necessary ingredients for survival and sanity in the music business. She also has all the strong characteristics of her Leo birthsign. It was she, for instance, as a young unknown, who over-ruled EMl's first choice and insisted that they release "Wuthering Heights" as her debut single.
"For me "Wuthering Heights" was the only single and I felt very strongly about it. Eventually they agreed, but it would have been terrible if it had failed after all the effort I had put into it."
But it was obvious after the first few days that it was a winner and E.M.l. were quick to realize that not only did they have a unique song but also a very attractive singer. The fact that she can also deliver the goods musically has enabled her to accept with some tolerance the interest her looks generate.
"It's a bit of a conflict. I want to come across in an attractive way, naturally, to attract attention, but I also want to say something in the photograph. It's just very hard to draw the line between being attractive and being sexy. Naturally, looks can help, but if you can't provide something interesting to listen to, that won't hold anyone's interest tor long.''
It would help sometimes she believes, if she were a man: their looks are less inclined to get in the way of their music. She's firstly a musician who taught herself to play the piano. She rebelled against early attempts to teach her the violin.
"I love the violin and I'd really like to try it again but I just didn't like being taught because I do feel very strongly that music should be free-form expression. I think frustration is the most important part of learning. You're forced to carry on until you can do it, at least I am. And when you get it out it feels SO good. Teaching yourself the piano has it's advantages, for instance, I can read chords, but I can't read notes. It's easy to give in but I was very determined to get it absolutely right."
Photo caption 3: Very fragile, flocked velvet and fringed flapper jacket from the Twenties (£12). Kate is wearing it over a satin nightie (£5).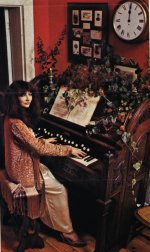 Kate lives in a large house divided into three flats, one for her and one for each of her brothers. She shares her flat with her cats, who, she insists, can tell a good friend from a "phoney" with no problems at all. They are either affectionate or extremely impolite and Kate tends to watch for their reactions when visitors arrive.
Without being suspicious. she tends to be wary of "heavy" relationships. Her boyfriend, Del, plays guitar in her band. Her family are very involved in her career and her future. She fights against the show business circus of image-makers and hangers-on. The people she needs. like her manager, Hilary Walker, are also good friends of Kate and her family.
It's rare for Kate to do a photo session. She insists she's not a model or a clothes-horse but she enjoyed being photographed for Tune-in because she fell in love with the clothes. In fact, one of the jackets she couldn't bear to be parted from, and took it home.
"They're real fabrics. I love the feel of silks, satins, pure cotton. They just feel so good." Kate's own full length black velvet coat was bought in an antique clothes shop and it's unlikely you'll ever spot her in crimplene and pearls: The clothes she wears tend to be as unusual and original as her songs.
The photos taken. Kate went happily out into the night and said she'd had a smashing time. It wasn't the cool, slightly bored farewell of a show business hot property. Kate Bush is defitely SOMETHING.
Beautiful clothes from the past
Naturally, all the clothes photographed are unique, but similar outfits can be found at Pot Pourri. 5 High St, Thames Ditton, Surrey, which is owned by Shirley Dunlop. At Pot Pourri, Shirley has an enormous collection of silk, satin, crepe and cotton nighties from Victorian to the 1940's from £3 - £12. She also sells the very popular collarless shins at £3.50 and narrow ties at £1 each. She's interested in buying any clothes you may wish to sell from Regency to 1940's. But if you're buying, you'll be amazed how cheaply you can acquire her beautiful and original clothes.
Kate Bush's make-up by Louise Blanchard


To the Reaching Out (Interviews) Table of Contents
"The pull and the push of it all..." - Kate Bush
Reaching Out
is a
Marvick - Hill
Willker - Mapes
Fitzgerald-Morris
Grepel - Love-Hounds
Presentation