Page 1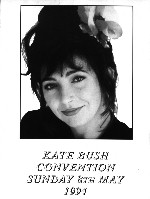 Kate Bush
Convention
Sunday 8th May
1994
Page 2, Message from Lisa, Dave, Peter and Krys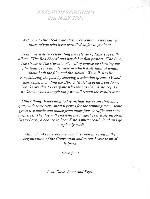 Welcome to the 1994 Kate Bush Convention, especially to those of you who have travelled so far to get here.
Today we will be celebrating the release of Kate's seventh album, "The Red shoes" and her debut film project, "The Line, The Cross & The Curve". We will of course be showing the film today, plus an interview in which Kate talks at length about both the film and the album. We will also be remebering the past by showing a selection of rare TV and video clips, including the BBC 2 "Kate&quotl; special from 1979. Thanks are due to everyone who sent us their Kate Top Ten (we know it was a tough job!) we will reveal the results later.
Other things happning today include the brain stretching quiz, with some very special prizes for the winning team, some great live music and dance from other fans, a raffle and some surprises. The day will end with the largest ever Kate inspired Disco/Party, a chance to hear Kate's music really loud and go completely mad!
Many thanks to everyone who has been involved in the organisation of the Concention and to our brave team of helpers.
Have fun!
Lisa, Dave, Peter and Krys.
Page 3, Letter From Kate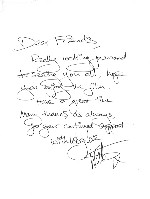 Dear Friends,
Really looking forward to seeing you all, hope you enjoy the film. Have a great time.
Many thanks, as always, for your continued support.
With lots of love,
Kate
Page 4


Back to Moments 1.5. - Convention 1994